Women and men across Poland and Europe have been demonstrating to urge the Polish parliament to stop the ban on abortion currently discussed in Poland. The current law is already one of the most restrictive in the world, banning abortion except for 3 cases: when pregnancy is a result of a crime (rape, incest), when woman's life or health is in danger and when the foetus is irreparably damaged.
The European Civic Forum joined more than 200 NGOs across Europe to urge the Polish Parliament reject this regressive legislative proposal that would not only erode reproductive rights but also put women's health at stake. The letter states:
<<Since 2011, Poland's government has launched repeated attacks on women's reproductive rights. In 2011, 2013, 2015 and 2016 draft legislative proposals were introduced that contained total or near total bans on abortion. Following massive public protests, such as the Black Protests in 2016, these draft bills were defeated.

Prohibiting women from accessing safe, legal abortion violates a number of human rights enshrined in international law, including the rights to life, health and health care, nondiscrimination and equality, privacy, and freedom from cruel, inhuman or degrading treatment. The European Court of Human Rights has previously ruled that the Polish government, in hindering timely access to abortion, has violated women's rights under the European Convention on Human Rights. Numerous international human rights bodies, including the UN Human Rights Committee, the Committee on Economic, Social, and Cultural Rights, the Committee on the Elimination of all Forms of Discrimination against Women, and the Committee Against Torture, have called on governments to remove barriers to abortion services and ensure access to safe and legal abortion.>>
Read the full statement and list of signatories.
A protest BLACK FRIDAY (CZARNY PIATEK) is planned tomorrow 23 March 2018 at 4:00 p.m. CET, in front of the Polish Parliament (Sejm) in Warsaw.
HELP US TO STOP THIS MADNESS AND CRUELTY! SHOW YOUR SOLIDARITY: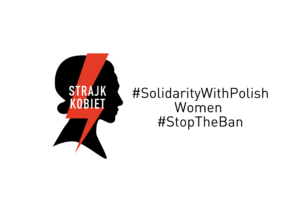 – print the slogan
– make a photo holding it
– share it on social media with hashtags #SolidarityWithPolishWomen and #Stoptheban
– tag Ogólnopolski Strajk Kobiet (Facebook) or @strajkkobiet (Twitter) so we get informed yousupport us!
Support the fundraising to allow women from smaller cities and towns come to Warsaw for the #blackfriday: https://zrzutka.pl/czarny-piatek
Join the protest across cities in Europe: (to be updated)
In Paris, in front of the Polish embassy between 5.00 and 7.00 p.m.
In Brussels, in front of the College of Europe Foundation from 12.30 to 14 p.m.