Actions against Defence Security and Equipment International (DSEI) – one of the world's largest arms fairs – started on 2 September and have been continuing through the week.
The days of protest are following themes. And on 3 September, it was No Faith in War day. Quakers held a meeting of worship in the road outside the ExCeL centre – where the arms fair is due to take place. But the Metropolitan Police weren't happy. They disrupted the peaceful act of religious worship to arrest over 30 people – something worshippers claim is illegal.
And this is just the tip of the iceberg in three days of demonstrations that have seen the police use heavy-handed tactics against protesters, journalists, and medics.
"A learning point"
Quakers were sitting in silence – a key part of their act of worship – when police officers began moving through the crowd to warn people they could be arrested if they didn't move.
Head of worship & witness for Quakers in Britain Oliver Robertson spoke to an inspector about the decision to move the police in while this was taking place. He expressed his "disappointment" in the police's actions and that:
it's a spiritual endeavour. It's the same as in the middle of a church service.
The inspector apologised and said they:
will take that as a learning point.

Robertson later told The Canary:
Quakers are against all war and preparations for war. Deliberate killing of others denies their humanity. And the arms trade, by seeking to profit from killing, is deeply immoral.

As part of our witness to peace, we held meetings for worship on the road leading to the arms fair venue at the ExCeL centre. This was interrupted by a police announcement that we would be arrested if we did not move out of the road. Quakers spoke to police officers, including the inspector in charge, explaining that this was not just 'quiet time', but a holy gathering. Police should behave the same way they would during a Catholic Mass or Muslim prostrations towards Mecca. To their credit, the inspector apologised for this and offered to take that as a learning point for the future.
Arrests
But this didn't stop the police moving in to make arrests. One Quaker told The Canary that the meeting would only have lasted another 15 minutes – and then people would have left the road voluntarily. Others argued that the police's actions were in breach of human rights legislation.
As Quaker activist Sam Walton explained on Twitter:
The police interrupted a @BritishQuakers Meeting for Worship yesterday then made 50+ arrests.

I want to tell you the story.

First off, it was big. Very big. Outside of a Yearly Meeting, I have never in 33 years of being a Quaker seen a Meeting this big. pic.twitter.com/QtMQFDdQqT

— Sam Walton (@SamWalton) September 4, 2019
At about 2.30ish the police "interrupted our quiet time" to tell us if we did not leave the road by 3pm we would be arrested.

Here is my view of an officer doing so. pic.twitter.com/t4GYMkd12y

— Sam Walton (@SamWalton) September 4, 2019
It is problematic that the police interrupted an act of worship.

In the 17th Centuary Quaker Meetings were broken up quite a lot.

Though perhaps the police can be forgiven for not knowing this, as they had not been invented yet.https://t.co/3sJME18PeS

— Sam Walton (@SamWalton) September 4, 2019
Walton also had some other "learning points" for the police:
Hank ministered in response.

Cos Hank is amazing.https://t.co/07Jq62Nr5E

— Sam Walton (@SamWalton) September 4, 2019
Network for Police Monitoring (Netpol) coordinator Kevin Blowe told The Canary:
The decision by the Metropolitan Police to close down a large act of worship outside the Excel Centre is extraordinarily ill-judged. The religious service was advertised in advance from 2 to 2.45pm, which is a relatively minor and entirely peaceful inconvenience to other road users – many marches last far longer and cause far more disruption to the public highway.

Yet the police were quick to first threaten and make arrests. Anyone with even the most basic knowledge of Quaker principles knows this would inevitably lead to the prayers continuing. Any restrictions on people's rights to freedom of thought, conscience and religion must always involve careful and proportionate decisions by the police. There was little sign of either yesterday.
Press freedom
But it wasn't just the treatment of the Quakers that raised concerns about the policing of the protests. Canary journalists were repeatedly assaulted and deliberately obstructed while trying to document what was happening. On one occasion, while standing on the pavement speaking to the media spokesperson for the Quakers, I was interrupted and repeatedly ordered to move by this counter-terrorism police officer: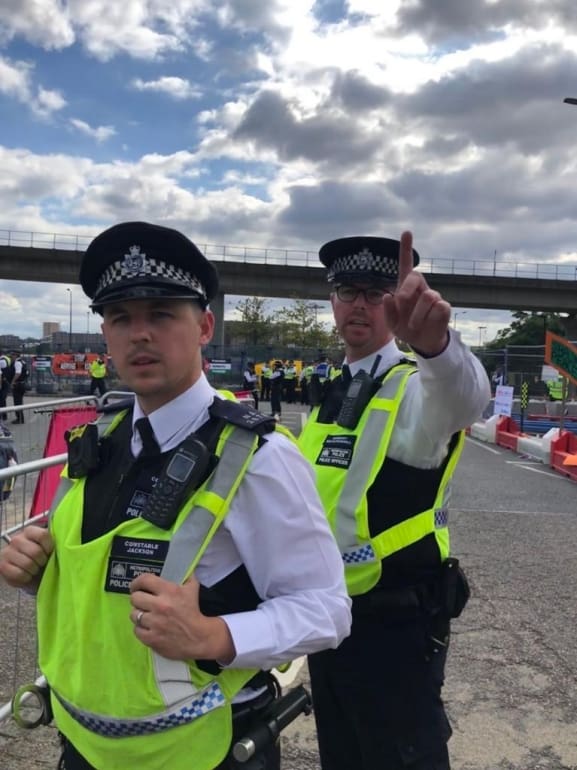 police intelligence gatherer told me on 3 September:
We don't have to allow free press access.
This is in stark contrast to the policing in 2017, where journalists were allowed to film and police officers apologised when they got in the way of me doing my job.
Stop and searches
Police officers were also stopping and searching protesters: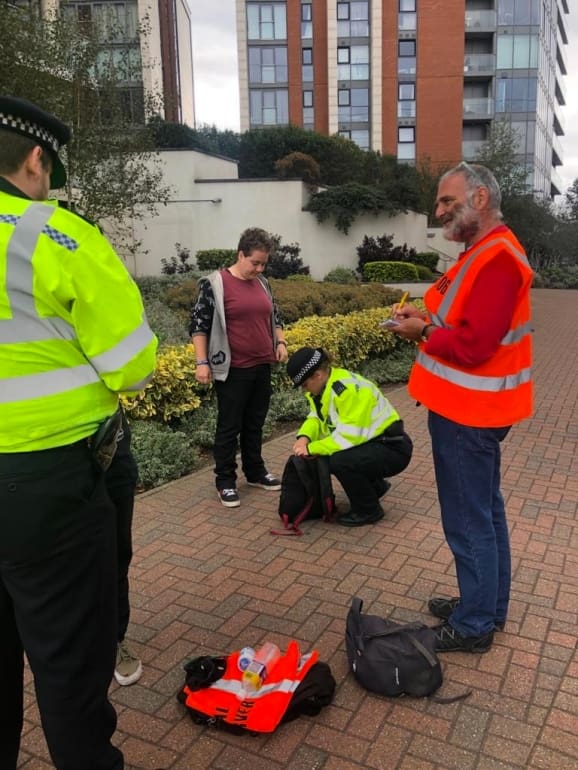 During one stop and search, a protester said that they were told it was for "items to disrupt the arms fair". They said it was only when they corrected the officer, and told him this was not a legal grounds for a search, that he changed his mind and said it was for items to commit criminal damage. The officer told The Canary it was "a slip of the tongue".
Meanwhile, Netpol reported:
Yesterday, in advance of this week's #StopDSEI protests against the arrival of the world's largest arms fair in Newham, the @metpoliceuk conducted a stop and search under anti-terrorism powers. Why? Because someone was photographing them. We're back here again? @phnat

— Netpol (@netpol) September 2, 2019
Tip of the iceberg
These problems were just the tip of the iceberg. Other problems recorded by or reported to The Canary included:
A vulnerable adult who was arrested and not allowed access to an appropriate adult at the police station. Any vulnerable person arrested has a right to an appropriate adult to be with them and to monitor their welfare. Eventually, they were allowed to see the person when their solicitor was present, but were told they had to leave when the solicitor left. This is a violation of the Police and Criminal Evidence Act (PACE).
One protester was preemptively arrested as soon as they arrived at the protest.
One medic was injured by the police.
The police excessively filmed protesters and, as detailed above, officers from the counter-terrorism unit were present.
According to Campaign Against Arms Trade (CAAT), 53 people had been arrested as of 3 September.
CAAT's Andrew Smith stated:
The policing has been very heavy-handed and the Metropolitan Police have been very arrest-happy. It is shameful that they are arresting so many people for peacefully campaigning against an arms fair that is fuelling destruction and repression around the world. There are another 5 days left of protests and we will not be relenting. As long as arms fairs like DSEI exist then people will take action to stop them. It's time that DSEI was shut down for good.
The Canary contacted the Met police about all the allegations made in this article but had not received a response at the time of publication.
"Police protect the arms trade"
As police pushed and arrested protesters on 3 September, people chanted:
Police protect the arms trade.
And while this certainly seemed to be the case during the first two days of protests, this hasn't deterred the protests. At the time of writing on 4 September, protesters had blockaded both gates, including an action that involved vehicles making it very hard for the police to clear access to the arms fair.
The arms trade is an abhorrent trade in death and destruction. As Smith stated, "we will not be relenting"; and despite heavy-handed policing, people will do everything in their power to shut down the arms fair before it even starts. Because lives literally depend on it.
All images via Emily Apple
Get involved