(Network for police monitoring) Ongoing evidence of confrontational and often violent and dangerous conduct by police officers at the shale gas fracking site at Preston New Road in Lancashire has sparked a coordinated effort to encourage campaigners to formally complain about their treatment.
With support from Netpol and from Green and Black Cross, campaigners from Lancashire, North Yorkshire and Nottinghamshire have set up a network with local Complaints Coordinators to log incidents and help people who feel they have been mistreated or wrongly arrested to complain.
Other protectors opposing the onshore oil and gas industry in East Yorkshire and Lincolnshire and at prospective drilling sites in South Yorkshire and Derbyshire have joined discussions about expanding the network.
A regular weekly drop-in surgery, where individuals can receive help to gather the evidence they want to present to Lancashire Police's Professional Standards department, is up and running at Maple Farm near the Preston New Road site. Clinics are planned at other sites too.
"No confidence in Lancashire Constabulary"
At the end of November, local people who had previously taken part in regular Police Liaison Meetings wrote to Chief Inspector Keith Ogle, who has strategic command of the policing operation at Preston New Road, to formally withdraw from further participation. They said they had "no confidence in Lancashire Constabulary and no confidence in the Police Complaints Procedure".
In their letter, signatories said they had "been subjected to unprofessional comments, provocative behaviours and physical aggression. Officers have caused numerous injuries to protectors, incurred by poor handling, aggressive shoving, tipping and dragging. Our injuries include, concussion, cuts, bruising, torn ligaments and broken bones. There have also been spurious arrests and detentions".
ne of those who signed the letter, Kirkham Town Councillor Miranda Cox, said in a personal statement, "we are no longer treated as people with passion and conviction but are treated with contempt."
Earlier this month, campaigners met with Netpol and a London-based solicitor from Netpol Lawyers Group member Bhatt Murphy, to discuss collective civil actions to sue Lancashire Police and North Yorkshire Police over the conduct they had experienced.
The newly formed "Justice Taskforce" argues that "peaceful protest should not be met with violence. That's it, bottom line, it's inappropriate and wrong. Too many people are being needlessly harassed, assaulted, injured, targeted and victimised".
"Together we stand up to the injustice"
Carol Towner, a campaigner from North Yorkshire said "It's all well and good people muttering about their disgust in the atrocious policing we have experienced, unless they actually follow through with a formal complaint nothing will change. Together we stand up to the injustice and say enough is enough".
The network is encouraging campaigners who have been mistreated to fill in an online Incident Report as soon as possible (paper copies are also available at front-line sites).
This is the initial step that enables the local Complaints Coordinators to assist individuals to write and submit a formal complaint. It will also help to identify trends in misconduct by officers and patterns of oppressive police tactics.
This includes complaints about past violent conduct and wrongful arrests, as well as recent events. There is no time limit for making a complaint, although campaigners are urged to try to do it as quickly as possible.
This is because complaints made a long time after an incident are even less likely to succeed in a flawed system already designed to obstruct genuine accountability.
How to get involved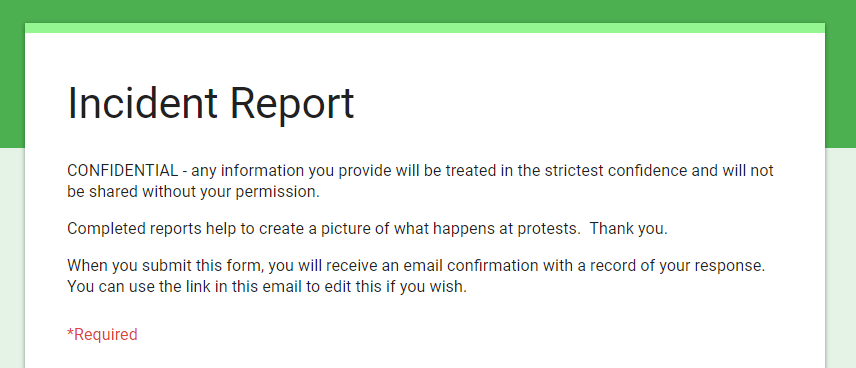 Protectors can log incidents via this online form.
To contact the Justice Taskforce, email protestjustice@gmail.com