(Translated from Voice of Freedom – No somos delito) SINGING FOR THOSE WHOSE VOICE WAS STOLEN.
The Voice Of Freedom: a song performed by a voice that cannot be judged and that fights for freedom of expression in Spain.
Freedom of expression in Spain is in danger, being the country with the most imprisoned artists in the world. So much so that, over the last year, several rappers have been brought to court for the content of their songs. The group No somos delito has compiled verses judged by different artists such as Valtonyc, Pablo Hasel, César Strawberry and Elgio. All of them sung by IRIS, a new artist created through artificial intelligence.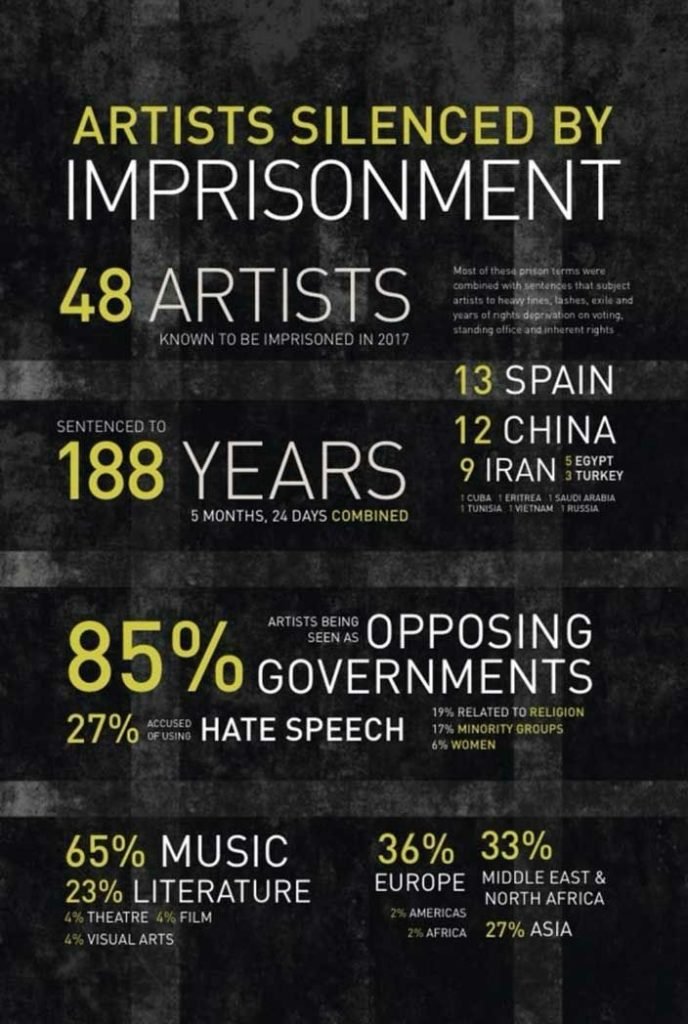 WHAT WE DENOUNCE
No Somos Delito denounces the ideological persecution provoked by the Gag Laws and their biased interpretation by political and judicial bodies.
Without freedom of thought, freedom of expression is useless. (José Luis Sampedro)

I like you when you shut up because you're kind of absent.
I like you when you are silent because you are kind of distant.
Distant and absent as if you had died. (Adapted from verses by Pablo Neruda)
Laws regulating the right to freedom of expression are being used by the state in a biased and disproportionate manner. In theory, the legal system should protect the right to freedom of expression, but in practice the Gag Laws (Double Reform of the Penal Code, Law for the Protection of Citizen Security, Law of Criminal Judgment) have been used as a weapon for political and social control by the state to silence those voices that are critical of power and government.
In recent times, the most serious attacks on freedom of expression have occurred under the Penal Code. The systematic accusation by the Public Prosecutor's Office, encouraged in many cases by popular accusations, of crimes initially conceived with the intention of protecting vulnerable sectors, has generated a "markedly political reconversion of some types of criminal offences that are used to intimidate and criminalize acts that we believe should fall within the scope of freedom of expression.
Thus, we have been able to verify how actions of the feminist movement were prosecuted for allegedly committing offences against religious sentiments (especially art. 525 of the Penal Code); the mobilizations demanding a change in the form of the head of state as well as several rap singers who criticised the privileges of the Royal House have been accused of committing offences of insulting the Crown (arts. 490.3 and 491 Penal Code); the protests supporting self-determination in Catalonia have been repressed under the accusation of committing the so-called crime of outrages against Spain (art. 543 CP); and hate crimes, intended to protect social sectors that have traditionally been the object of discrimination or hostility (Judgment of the ECtHR E.S. v. Austria, 25 October 2018) have become a form of repression of criticism of police actions, repeatedly ignoring the fact that State institutions and officials cannot be legally considered "vulnerable sectors" or "unprotected".
Finally, the crime of glorifying terrorism and humiliating its victims has repeatedly been used to curtail practices that are part of the sphere of freedom of expression, no matter how distasteful they may be, particularly if they are distasteful, since the jurisprudence of the European Court of Human Rights expands freedom of expression to those comments that scandalize, annoy, disturb and offend (Judgment of the ECtHR Handyside v. The United Kingdom, 7 December 1976).
In short, we want to show that there are people who face or have faced prison sentences for criticising or denouncing abuses of power, or simply exercising their right to criticism and parody. Valtonyc, Pablo Hasel, La Insurgencia or Cesar Strawberry are examples, but there are many more.
By condemning with prison sentences and fines the free expression of certain ideological thoughts, the legislative and judicial powers are failing to guarantee equal access to the right to freedom of expression.
WHAT WE WANT
That laws effectively protect freedom of expression and serve to protect vulnerable persons or groups, not the powerful.
We demand freedom of expression as a weapon of counter-power that serves to criticize and make visible abuses of power.
That public debate be opened and that laws not be used to impose censorship on the street and on social movements. The population has mechanisms to self-regulate freedom of expression.
WHAT WE ASK FOR
The acquittance of individuals charged or convicted in the appeal process and amnesty for exercising freedom of expression.
Freedom of thought should not be criminalized through laws or their interpretation.
(Translated with www.DeepL.com/Translator)